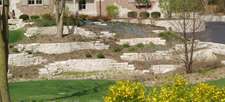 Landscape masonry yields strength, durability and natural beauty along with the obvious ability to pull the landscape and the building together "naturally".

Access All-Type Stone provides guidance and expertise in all areas of landscape masonry.
Just a few of the possible uses are: Parks, campus and office landscape, terraces, streetscapes, entry areas, lakes, ponds, waterfalls, retaining walls, patios.